In this article, you will learn how to change the mapping of an AD connector.
Question:
How can I change the mapping of the AD connector?
Solution:
Open the program directory of the XPhone Connect Server (C:\Programs\C4B\XPhone Connect Server).
Open the file DCAD-Template.DCX with a text editor
Search for the field you want to edit. Here is the example "Email":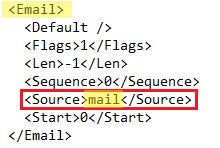 To change the mapping, the "Source" must be adjusted to the desired field from the data source. The mapping must be case sensitive.
4. save the settings
Important: The change only applies to connectors that are created afterwards, not to existing ones!