What the file "OUTLOOK.EXE.config" is needed for and how to prevent the installation is explained in this article.
Question:
What does the "OUTLOOK.EXE.config" file do?
Response:
During the default installation of the Outlook Addin, a file called "OUTLOOK.EXE.config" is installed into the Outlook.exe directory as well. This config file tells Outlook which .NET version to use for the addins. This is necessary for the XPhone Fax and SMS addin to work.
If the customer uses other addins which are based on other .NET versions, it can happen that these are bent by our config file to another .NET version and therefore do not work any more.
You can prevent the file from being installed by checking the following boxes in TweakMSI:
"Modify MSI Properties"

"Ensure compatibility with other Outlook Add-Ins".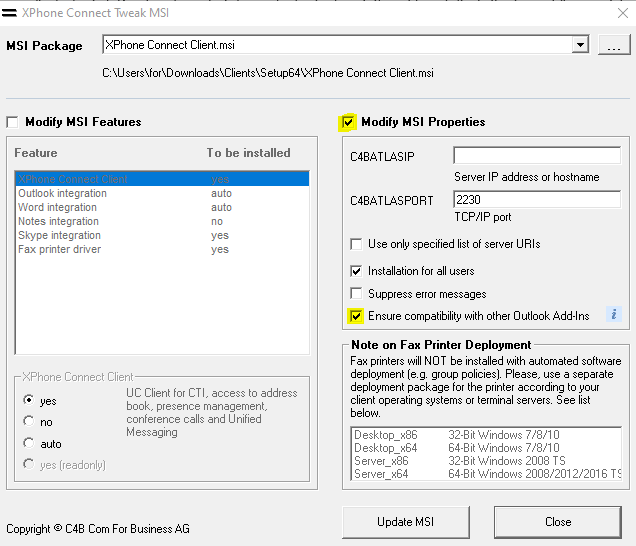 This will stop other .NET addins from being bent over to other versions.
Attention:
If the checkmark is set, however, it must be ensured that the fax and SMS integration in the XPhone Connect admin interface (User Management > Location > Settings) is only set to "XPhone Connect Client", the integration of the two must not also be activated for the groupware client, otherwise errors will occur in our addin.
If you need the file afterwards you can download it here: https://dev.c4b.de/downloads/OUTLOOK.EXE.zip.
Save the file in the directory of the Connect Client and restart the client and Outlook.